---
In February BYU recognized nine alumni with Emeriti Awards. Honored were Don A. Buswell (BS '43), Georgia Cullimore Faux (BA '44), De Lamar Jensen (BA '52), Nadine Thomas Matis (MEd '80), Karl A. Miller (BS '32), Rulon Dean Skinner (BA '54), Wilford E. Smith (MA '48), Samuel O. Thompson (BA '57), and Clark T. Thorstenson (BA '62).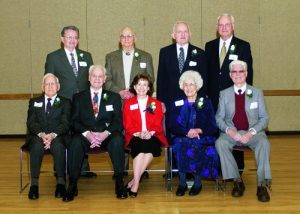 A horseman, sculptor, community leader, and dentist, Buswell's life has been characterized by diversity. He was president of the Utah State Dental Society and served on the Utah Board of Dental Examiners. He was also a member of the Weber County sheriff's mounted posse and has participated in several humanitarian projects worldwide.

Faux performed on stages throughout Utah and was a part-time BYU faculty member for 20 years. She was president of the Women's Division of the Provo Chamber of Commerce. In 1983, the Utah State Chamber of Commerce honored her as Outstanding Citizen of Utah.

Jensen taught history at BYU for 33 years and received Karl G. Maeser research and teaching awards. He was also dean of the Honors Program and gave the Distinguished Faculty Lecture in 1977. A former chair of the History Department, Jensen directed many BYU study-abroad and Travel Study programs in Europe.

Matis was honored in 1990 as Weber County Mother of the Year, Utah Mother of the Year, and National Mother of the Year. She earned her MEd and PhD in psychology. She taught at Weber State University and Salt Lake Community College, worked at McKay Dee Hospital, and maintained a private practice.

Miller cleaned chalk erasers at BYU as a child and was a repairman and Y Bell ringer as a student. While working toward a master's degree, Miller was made BYUsuperintendent of buildings and grounds. He wrote a history of BYU's buildings and grounds after 50 years in that department. At a public ceremony during BYU's centennial celebration in 1975, Miller used a can opener to open the time capsule in the Maeser Building cornerstone after two electric saw blades broke in the attempt.

For 27 years Skinner taught courses in youth leadership at BYU, and in 1989 he received the faculty teaching excellence award in the College of Physical Education. In Scouting, he received the 50-year Veteran Award and several other national Scouting awards. He has been a Scoutmaster at nine national Boy Scout jamborees and one world jamboree, and he will be a Scoutmaster again at the 2005 national Boy Scout jamboree.

Smith was a BYU sociology professor and taught in BYU study-abroad and Travel Study programs. For nearly a dozen years, he officiated high school football games in Utah County. Smith helped organize the first two branches of the Church at BYU and translated the temple ceremony into the Bislama language while he was mission president in Fiji. An Army chaplain since World War II, Smith was elected national chaplain of the 120,000-member Reserve Officers Association in 1991.

Thompson has won wide acclaim for his tenor voice, performing in operas, oratorios, and concerts throughout the United States, Canada, Mexico, and Europe. He won regional Metropolitan Opera Auditions twice, performed 17 different leading operatic roles, and soloed with the Tabernacle Choir. Thompson is one of the original incorporators of Boise Opera, now Idaho Opera. He has been a music teacher, land developer, and builder and was president of the Oklahoma Tulsa Mission from 1986 to 1989.

Thorstenson's much-honored BYU career spans more than four decades, including teaching, serving as university director of cooperative education and internships, and being an associate director at BYU's Jerusalem Center. He also directed the Latin American internship program and taught Church history until his 2000 retirement. Thorstenson wrote or co-wrote three college texts, co-founded Bonneville Health Systems, and was a diplomatic consul in Iceland, receiving the Icelandic Heritage Award.