How alumni use their BYU education to serve their communities, neighbors, and families.
From the Classroom To the Choir
From the time I was a little girl I was intrigued while watching choristers, noticing their different styles and what made them effective. Years later, at BYU, I jumped at the opportunity to take a conducting class for my music minor. Since then, I have been able to use my own conducting skills not only as a music teacher but also in leading a number of choirs and special programs for church. It is so fun! But perhaps my favorite opportunity for the past 10 years has been conducting a Christmas community choir that includes members from three different denominations in our area. I am ever so grateful to have learned a skill that has been so important to me and has allowed me to serve others in our community.
—Terry Inman Anderson (BS '74)
Basalt, Idaho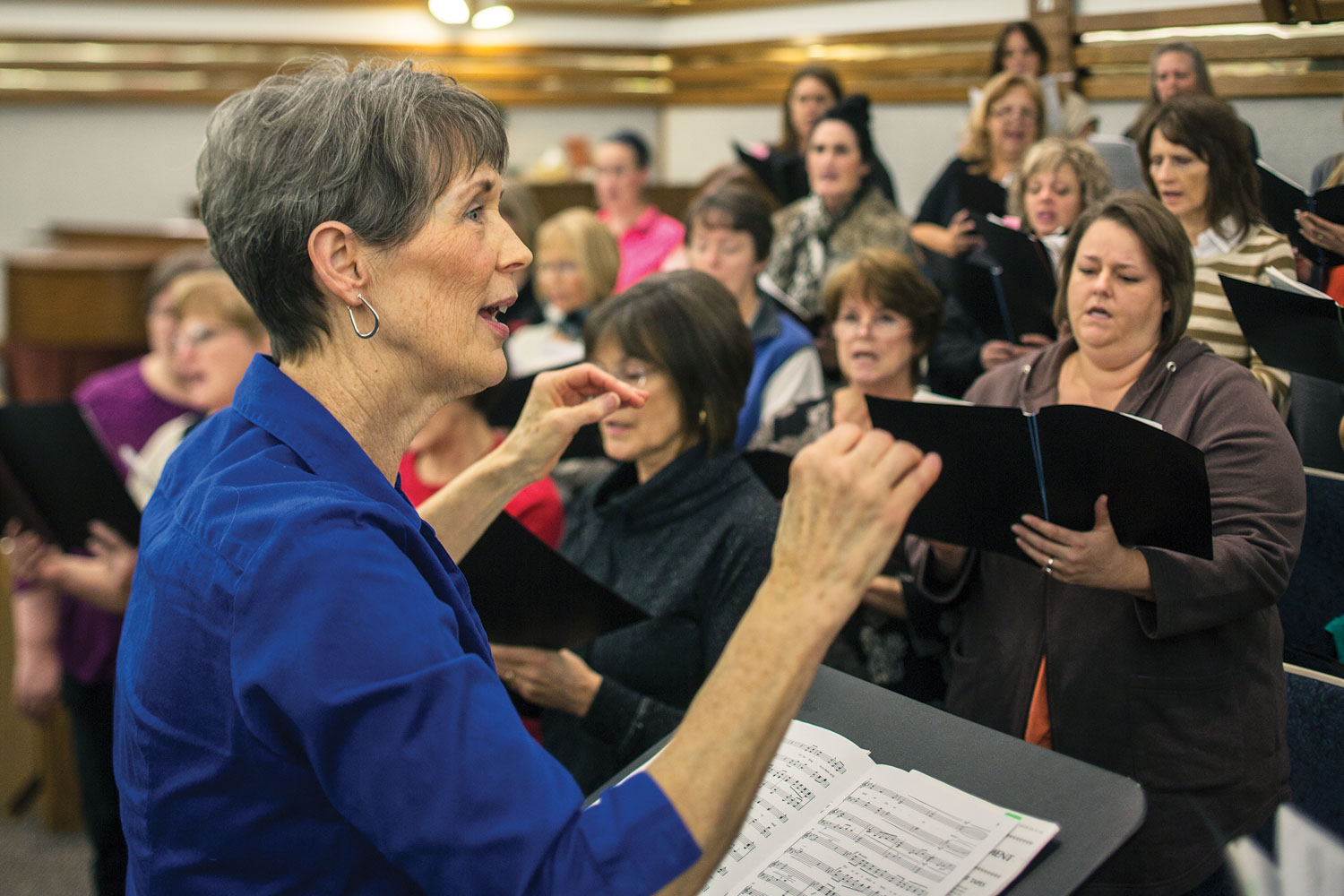 60 Years of Goal Getting
In 1956, as a newly married BYU student, I took a religion class in which we set goals and projected where we'd be in our lives every five years until we were 80 years old. In the 60 years since, I've often reflected back on that list. Professionally, in the time frame projected, I became a dentist and orthodontist. In the family category, I guessed my wife and I would have six children. I was close: we have seven, and all of them have attended BYU. In the Church category, I anticipated being assigned to a number of callings, and I have had numerous opportunities to serve, including as a bishop and mission president. It's almost eerie to see how closely the direction of my life since that class has matched my projections.
The class inspired me to fine-tune the concept of goal setting, and when I was 54, I set some additional intermediate goals, including earning a law degree, learning French, and significantly lowering my golf score. I earned the law degree in 2003, at age 72—but I'm still working on learning a second language and lowering my golf score.
—Stanley C. Kimball Jr. ('59)
Laguna Beach, Calif.
Marriage Building Blocks
When I first started my BYU marriage-prep class, I was embarrassed to admit I was taking it. But the class was so good that by the end of the semester I was telling everyone I knew that they needed to take it too. In the years that passed after I graduated and before I met my husband, I began looking to the scriptures and other books to learn everything I could about building a happy marriage. Those years of preparation paid off, and I feel blessed that my husband and I have healthy lines of communication. I heard that the first year of marriage would be the hardest, but ours was filled with understanding and love. When my husband has a concern, I try to listen to him first without immediately becoming defensive. And when we disagree, neither of us tries to win—instead we both work hard to overcome the challenge as a team.
—Marcia Brisson Van Camp (BA '05)
Lorton, Va.
Share Your Story: How has your BYU education helped you better serve others in your daily, nonprofessional life? Send us your tips and stories of the specific things you learned at BYU that have proven helpful in your home or community. BYU Magazine will pay you $50 if we choose to publish your submission in Learning for Life. Submissions may be edited for length, grammar, appropriateness, and clarity. Send your story to learningforlife@byu.edu.