---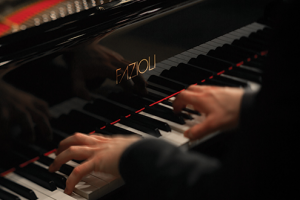 It was love at first sonata. After testing out a borrowed Fazioli piano, BYU music staff and students knew they had found the one. "We were smitten," says piano professor Scott L. Holden, who later traveled to the Fazioli factory near Venice, Italy, to handpick the model now filling the Harris Fine Arts Center (HFAC) with music.
Valued at a quarter of a million dollars but available to BYU thanks to institutional discounts and generous donors, BYU's newest piano is the crown jewel of Fazioli's collection and one of only 100 in the world. BYU's F308 model features interchangeable keyboards designed by BYU piano technicians—one to pound out concertos, another light enough to accompany vocalists—and a fourth pedal to reduce volume without changing timbre. At 10 feet 2 inches long, it's the world's longest piano, barely fitting in HFAC freight elevators.
"It plays like it will do anything you ask it to," says Holden. "It has a lot of power, but it's easy to control."
Web: Get tickets to listen to the Fazioli in its inaugural concert, on Feb. 13, at more.byu.edu/philharmonic.