---
Education
Bully Reduction: Maren Dennis ('10) and Ashlee H. Villordo ('10) presented research on bullying among junior high students at the National Paraprofessional Conference. Simplifying Spanish: Instructional tech prof Paul F. Merrill (BS '67) developed the Bilingual Reader, an online site for Spanish learners that teaches vocabulary, pronunciation, grammar, and more.
Engineering and Technology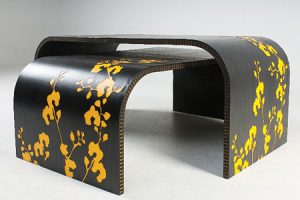 Wood Work: BYU students won two honorable mentions at the Fresh Wood furniture design competition: Laura S. Davey (BA '09) won for her Floral Peek-a-boo Table and Jonathan R. Cox ('10) won for his table Split-Personality. Second for Sensors: Oliver Johnson ('10) took second at the Science and Engineering Research Challenge sponsored by the U.S. Department of Energy, where he presented on nano-composite sensors. For Adams: The Materials Science and Technology Conferene held an honorary symposium for mechanical engineering prof Brent L. Adams.
Family, Home, and Social Sciences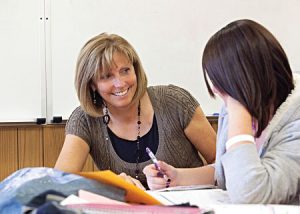 Binge Drinking: Students placed in coed housing by their universities are 2.5 times more likely to binge drink each week than their peers in all-male or all-female housing, according to a study by family life prof Jason S. Carroll (BS '96) and visiting prof Brian J. Willoughby (BS '04). The study appeared in the Journal of American College Health. Fruits of Mentoring: Teen students who have an adult mentor have a 50 percent greater likelihood of attending college, according to a study coauthored by soc prof Lance D. Erickson (BS '99) and published in the journal Sociology of Education.
Fine Arts and Communications
Professor's Legacy: A display in the HFAC featured the work of recently retired art prof Hagen Haltern and his students from the 1982 intensive drawing class. That year the class met eight hours a day, four days a week. Good Sport: Daily Universe sports editor Matthew A. Payne (BA '09) won a scholarship from the Associated Press sports editors. The award was given to only four students nationally.
Humanities
Language Laureate: Language studies prof Ray T. Clifford (BA '68) received a distinguished service award from the Association of Departments of Foreign Languages.
Law School
Supreme Experience: A group of law students participated in litigation before the U.S. Supreme Court, assisting their professor RonNell Andersen Jones in the case Kucana v. Holder.
Life Sciences
Associate Dean: Brad L. Neiger (MS '84) is now associate dean of the college. Gene Team: Bio prof John Sai Keong Kauwe (BS '99) is part of an international team that identified two genes associated with Alzheimer's. Their research is published in Nature Genetics.
Marriott School
Moral Scents: Business prof Katie Liljenquist's study, published in Psychological Science, found that clean-smelling environments promote moral behavior. Best of 2009: The Princeton Reviewdeemed the Marriott School the most family-friendly business school in the nation, third for most competitive students, fifth for best professors, and 18th for student entrepreneurs.
Nursing
New Professorship: Lynn C. Callister (BS '64) received the first College of Nursing Professorship, sponsored by the Mary Ellen Edmunds Nursing Endowment for the Healer's Art.

Physical and Mathematical Sciences
Spectacular Spectrometry: Paul B. Farnsworth (BS '77), chair of chem and bio chem, was awarded the Distinguished Service Award from the Society for Applied Spectrometry. Major Award: Math prof Michael J. Dorff (BA '96) received the Deborah and Franklin Tepper Haimo Award from the Mathematical Association of America for distinguished teaching. Ecostatistician: Stats prof William F. Christensen (BS '94) received the Distinguished Achievement Award from the American Statistical Association for promoting undergrad research in environmental statistics. Nucleic BYU: While designing nanoscale shapes for electrical circuitry, chem prof Adam T. Woolley (BS '92) and his students customized segments of DNA to spell "BYU." The letters are 1/1,000 the width of human hair.
Religious Education
Great Article: J. Spencer Fluhman (BA '98), Church history prof, won the Mormon History Association's T. Edgar Lyon Article of the Year Award for "An 'American Mohamet': Joseph Smith, Muhammad, and the Problems of Prophets in Antebellum America."