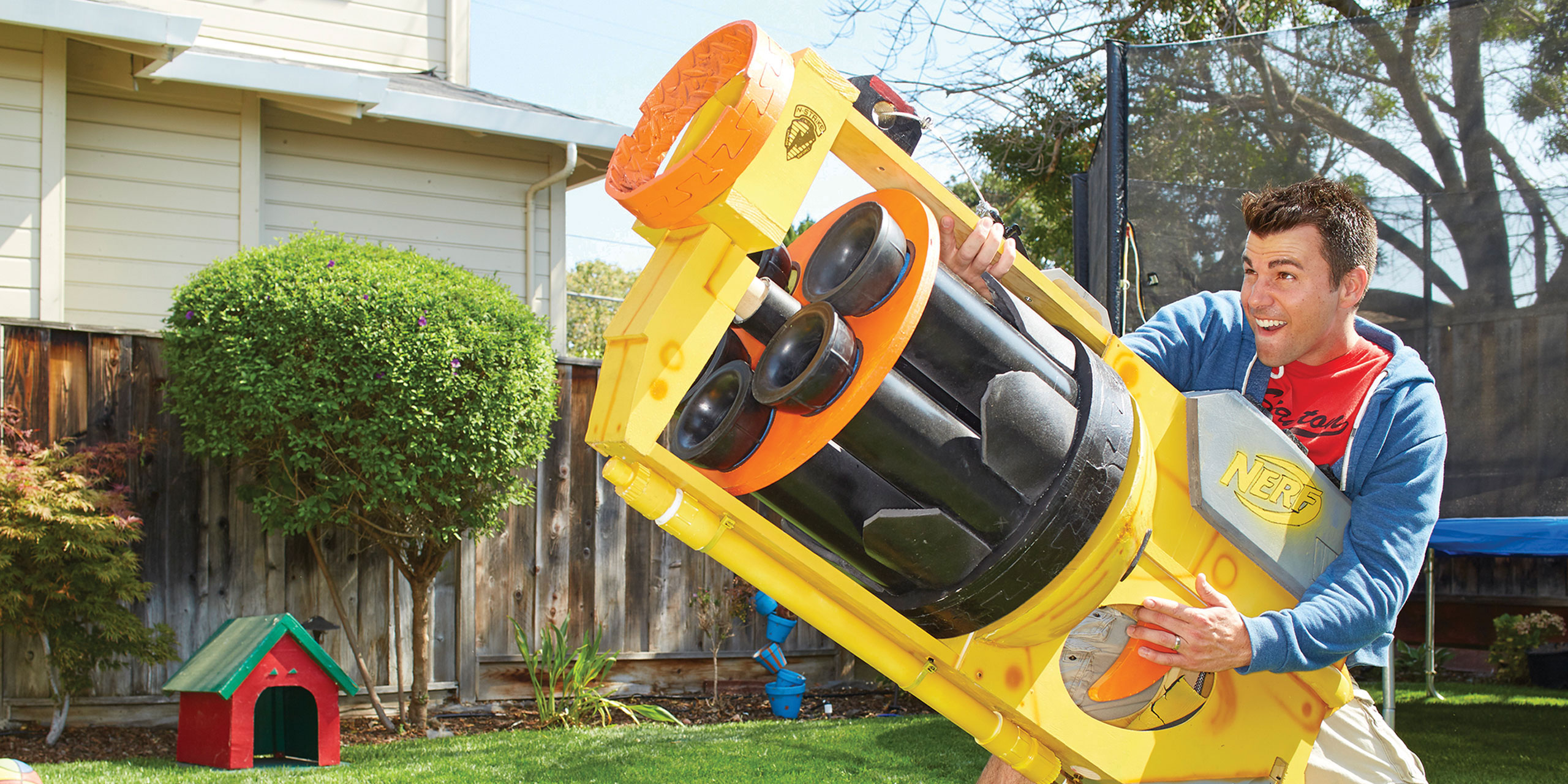 You likely know about Lindsey Stirling (BS '15), the hip-hopping, high-kicking, genre-inventing violinist with 2 billion YouTube views. Or maybe you've followed a video tutorial from Mindy Scott McKnight's (BA '01) massively popular Cute Girls Hairstyles channel to plait tresses à la Hunger Games' Primrose Everdeen. And surely your kids, grandkids, nieces, or nephews have told you all about (and provided complimentary reenactments of) Studio C's quirky comedy sketches.
But did you know about the BYU professor whose family vlog rakes in hundreds of thousands of views every day? Or the former NASA engineer who geeks out on science and crafts zany inventions for nearly 2.4 million subscribers? Or the grad who has interviewed more than 700 returned missionaries to share mission-life hacks for the newly called as they prepare for service?
Get to know a handful of these alumni making a name for themselves on YouTube, and watch a most-popular video from each.
Down to a Science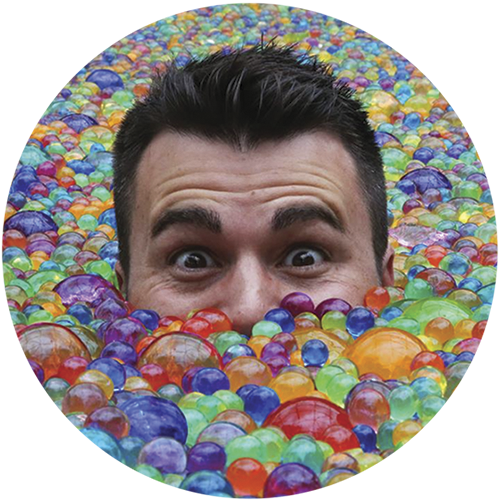 Mark Rober | Mark B. Rober (BS '04) | 2.7M subscribers, 374M views
How best to survive a grenade blast? How do you beat the odds at carnival games? Would you sink or float in a pool full of 25 million Orbeez? On his YouTube channel, former NASA engineer Mark Rober explores the answers to these questions and more by doing what he does best—engineering.
Nerdiness ad Infinitum: "At first I was worried I would run out of ideas," says Rober, who has published science-fair hacks, built a jumbo Nerf gun, and painted with light. "But now, after six years doing it, I know I'll never run out. My brain naturally thinks about nerdy stuff. . . . My wife is an English major, and eventually, after I talk about too much nerdy stuff, we have to talk about feelings or something for five minutes."
Improving His Odds: If Rober has thrown more dartboard bullseyes than anybody in the world, it's from years of engineering, not practice. Rober built a board that utilizes infrared cameras, stepper motors, and computer coding to track the dart's trajectory, predict where it will land, and move the board into position. Most projects take him months to complete. "It took me three years to finish this beast," he says.
Showtime: Rober thought he'd ironed out all the dartboard kinks when he was invited to show some April Fools' pranks on Jimmy Kimmel Live! (watch below). But during rehearsal, Rober couldn't get the dartboard to work.
As he stepped on stage, a friend worked on the board backstage. "[It] was meant to be the grand finale," says Rober, "and I had no idea if the thing would work. But sure enough, when I threw my dart, . . . I got a dead-center bullseye. In our . . . trial throws, we never had a bullseye as good as that one."
Stitching Together Success
MADE Everyday | Dana Suman Willard (BA '98) | 373K subscribers, 24M views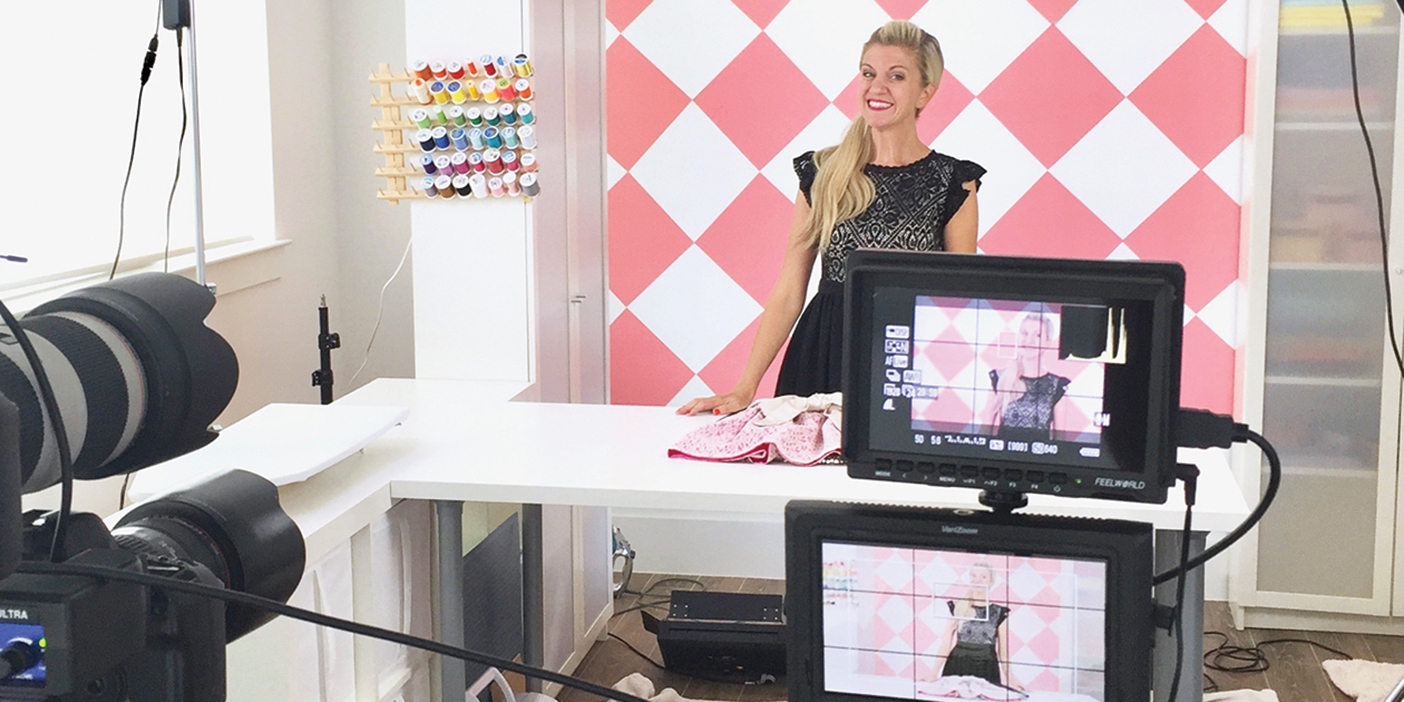 Dana Willard has been sewing since her mom and grandma got her hooked at age 10. With her channel MADE Everyday, the broadcast communications grad has brought together her hobby and her academic training in how-to videos dedicated to crafting and sewing projects. From constructing a yarn lamp to sewing a necktie, Willard breaks down all the steps and makes it easy to produce everyday items.
Chic Show: In creating her channel, Willard wanted to distinguish it from existing "grandma-ish" programs filmed in a "cold studio." She says, "I wanted [my show] to look like the quality of a Food Network show, but for sewing. I wanted it to look fun and approachable for younger audiences."
Business Minded: While her videos are free, Willard has found a way to make a business of her channel. "I sell PDF sewing patterns that go along. For instance, in my video, I'll show you for free how to make a pair of shorts, and oftentimes, people will then buy my pattern. That, along with my ads, is probably where I make most of my business income."
Gen DIY: Not only does MADE Everyday provide tutorials for the do-it-yourself-minded, but Willard says creating the channel has been its own lesson in building something from scratch. "We live in a cool age where people can build their brands from the bottom up. . . . Anyone can be anything they want to be. . . . My business has been able to grow just by putting myself out there on YouTube and seeing where it goes."
Tight-Knit Community: Willard hears from viewers from all over the world. "I get comments from people in the Middle East, Africa, and Europe. It's really cool to make these connections with people who have similar interests to me, . . . [who] in a different day and age I never would have met."
Daddy-Daughter Duo
Claire and the Crosbys | David R. Crosby (BS '11, MBA '15) | 801K subscribers, 142M views
When, at a gas station, Dave Crosby saw people pulling out phones to film an impromptu solo by his 3-year-old daughter, Claire, he had the idea to record her himself. Their first video, a Little Mermaid song, quickly gained millions of views and drew international attention, and the channel Claire and the Crosbys was born. Now the dad-and-daughter singing duo has covered more than a dozen Disney favorites and other songs and found millions of fans worldwide.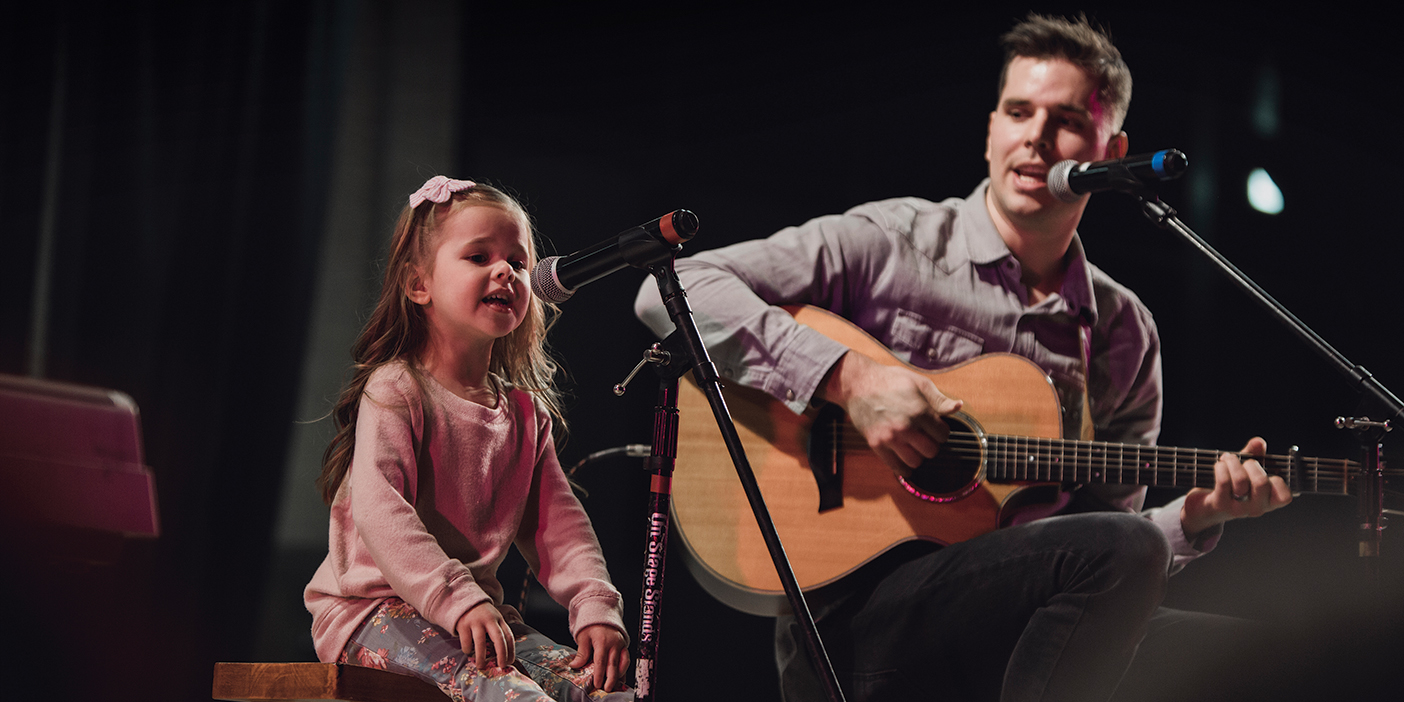 Talking Tot: "[Claire] learned to talk so incredibly young," says Dave. "She could pronounce and say everything really clearly, so I think that's surprising, to hear a little kid talk the way she does. . . . Also, she sings on pitch so well."
Facing Fame: Claire, who has sung with her dad on The Voice and multiple times on Ellen, is still trying to understand what it means to be famous. Dave remembers a big performance in Spanish Fork, Utah. "Afterward she was just so confused, asking, 'Dad, how come all those little girls didn't get a turn on the stage too?'"
No Pressure: Even though their channel has been a hit, Dave hasn't quit his day job. "[Claire] loves making videos. She loves singing. We've been really, really careful to make sure it all stays fun for her," he says. "We don't depend on YouTube money at all. We save money for her, so it never becomes a thing we have to do."
Proud Papa: Viewers from all over the world write in to tell the Crosbys how the videos have inspired them and in some cases brought them out of a dark place. "[Claire is] just this super special little girl," says Dave. "I feel like I have this responsibility to take care of her and just show the world her goodness."
Along for the Ride
8 Passengers | Kevin W. (PhD '11) and Ruby Franke | 1.2M subscribers, 392M views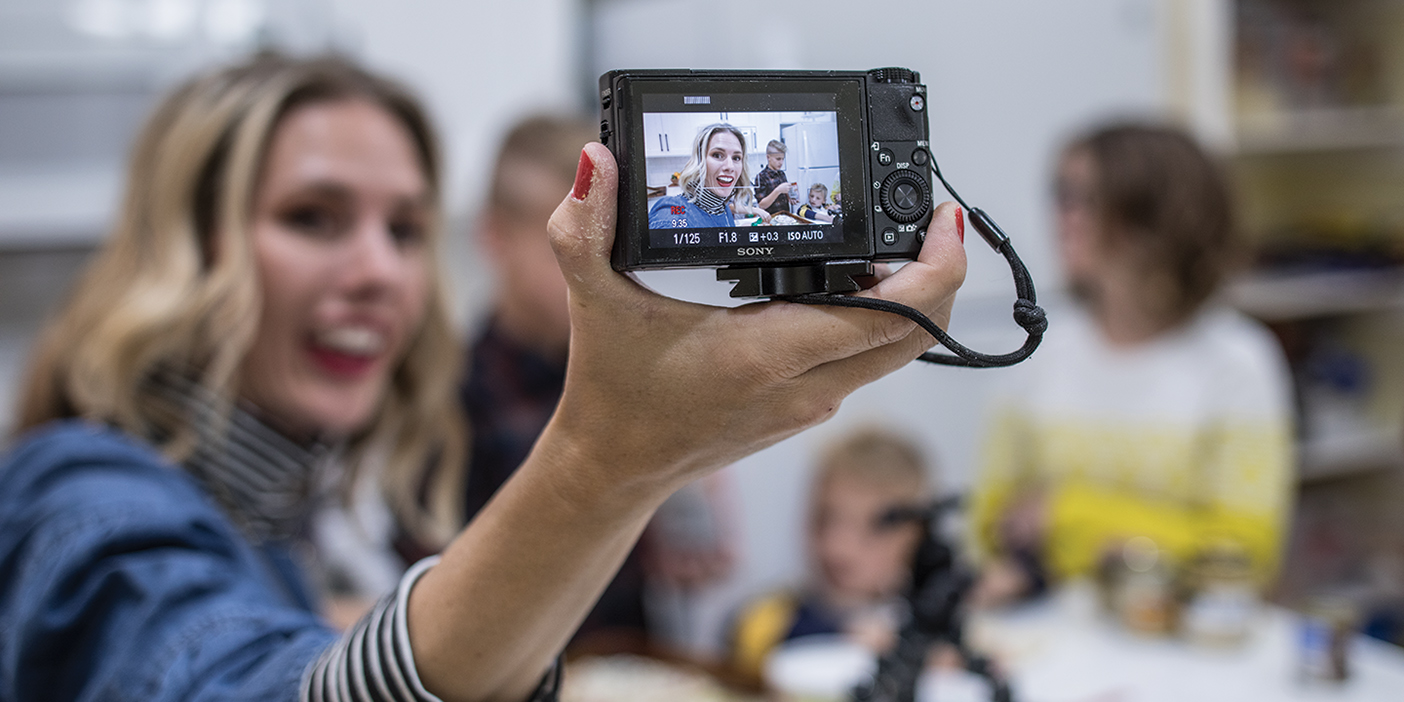 With six kids, Kevin (a BYU civil and environmental engineering professor) and Ruby Franke know all about the bustle and busyness that goes into the business of leading a big Mormon family. There's always something unexpected happening in the Franke household—from emergency-room visits to first kisses to back-to-school prep—and it's all captured on their daily vlog.
Keepin' It Real: Kevin says they deliberately show their family life as it is—the highs and the lows. "We don't filter out too much. We don't hide too much. We show who we are, and we do that intentionally."
Modeling Motherhood: "For almost every video I'll get the comment, 'Wow, I never ever thought motherhood would be appealing to me, but watching you, . . . I think I actually do want to become a mom,'" says Ruby. "Those are the comments I like getting the most, . . . [when] they come to our channel . . . [and] are filled with hope."
Sharing the Gospel: "I haven't felt guilty about missionary work for years," says Kevin, who notes that they regularly hear from viewers who were inspired to look into the Church. "You don't have to preach [your faith]. Just portray it, and people will ask questions."
YouTube Star: Kevin's side gig is no secret among his work peers. "When I get together with the big-name professors in my field at conferences, . . . they don't want to talk about my research," he says. "The thing everyone wants to talk about is . . . what's it like to be a YouTuber."
Go Big
devinsupertramp | Devin M. Graham ('11) | 4.8M subscribers, 1B views
Devin Graham is a connoisseur of the crazy and daring. A storyteller and extreme sports lover at heart, Graham wows viewers on his YouTube channel with Hollywood-quality action and screwball humor. With videos of parkour through the streets of Barcelona, a slip-and-slide off a 50-foot cliff, and a Stranger Things parody featuring Studio C, there is no such thing as a small production for devinsupertramp.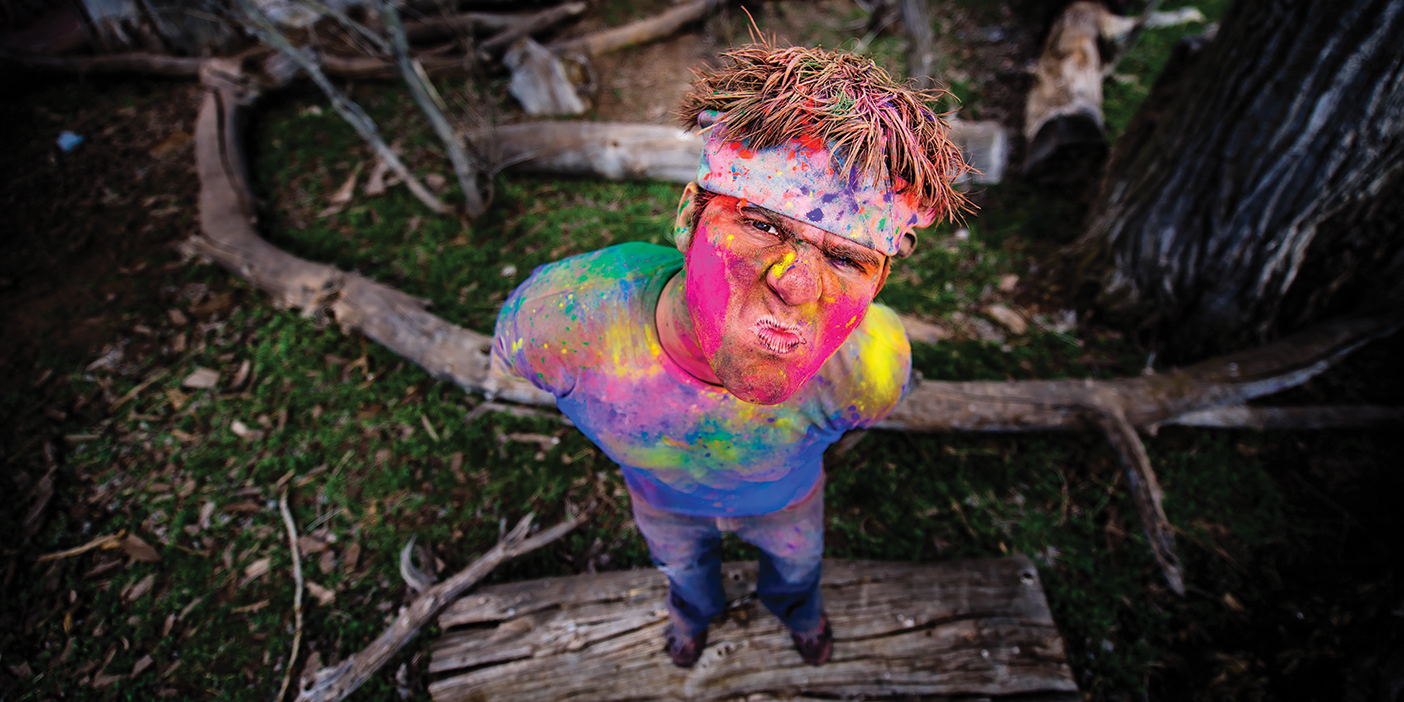 Acrophobe: With videos ranging from a real-life Mario Kart race to a 500-foot bungee jump in the Swiss Alps, Graham takes pride in pushing the bounds of imagination and catching life's most daring adventures on camera. To do so, Graham constantly faces his greatest fear—heights. "I'm doing something that scares me every day," says Graham, "but when I get the camera in my hand, most of that fear goes away."
Bringing in the Professionals: Despite all his videos of daring feats (from street lugers doing 50 mph down windy roads to pogo stick jumpers doing backflips), Graham says injuries are minimal—just a few broken bones. Along with precautions, he credits the stuntmen. "Whenever it's a set where someone can physically be hurt," says Graham, "we always make sure we're using professionals to film." And because the channel has become so popular, many extreme-sports pros—sky divers, pole vaulters, slackliners, skim boarders, and more—reach out directly to Graham to collaborate.
His BYU Squad: "A massive part of my success was living and working with creative people at BYU," says Graham. And his college theater and media arts connections continue to be an asset. Seven years after leaving BYU, Graham continues to work with the university, collaborating with Studio C cast members and creating promos for BYUtv's sci-fi series, Extinct.
Budget Like a Boss
Jordan Page FunCheapOrFree | Jordan Francis Page (BS '08) | 125K subscribers, 6.5M views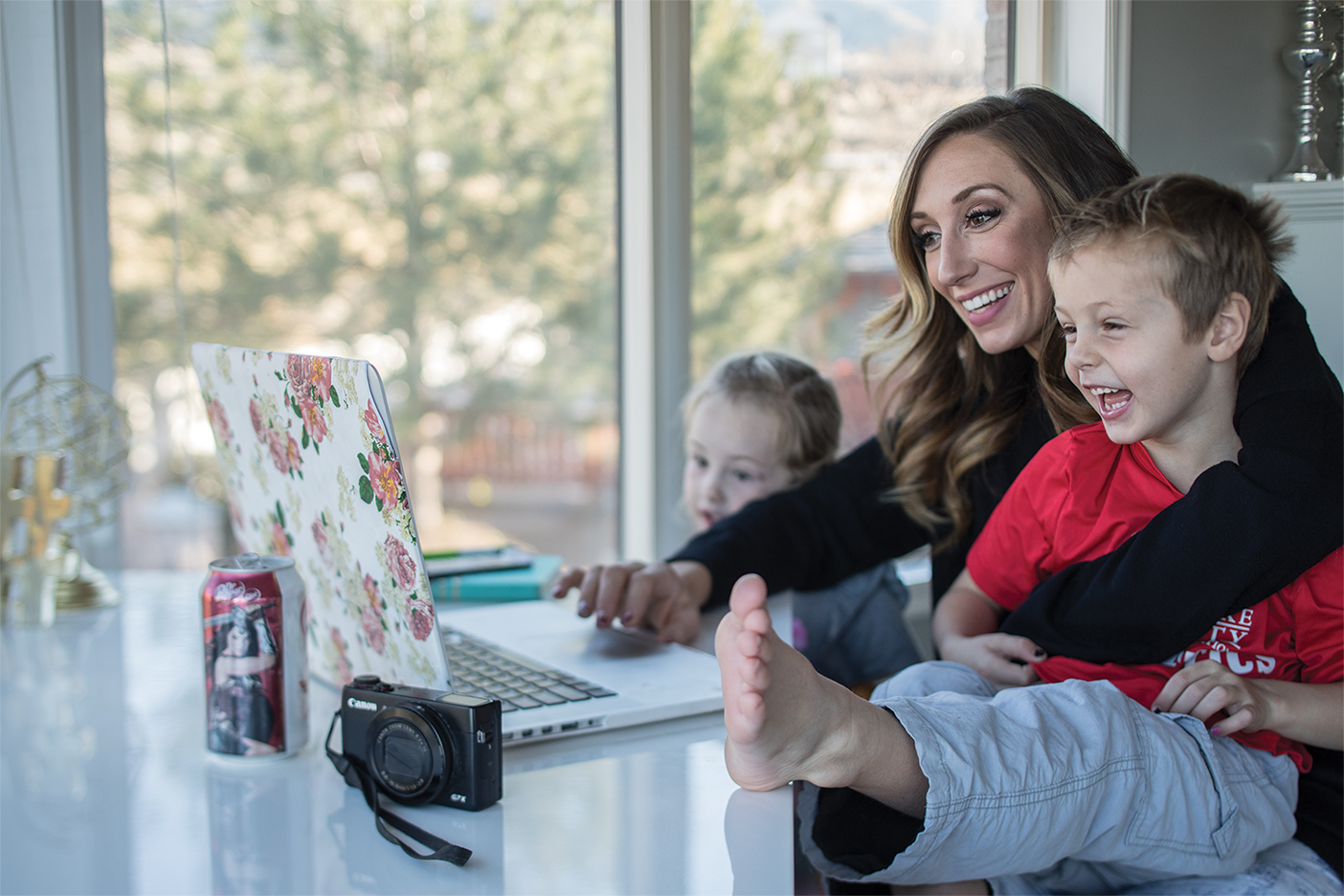 While starting a business and becoming first-time parents, Jordan Page and her husband, Brandt "Bubba" H. Page (BA '09), racked up $15,000 in credit card debt. With a smart budgeting plan and a lot of self-control, they got out of debt in just over a year on only a $31,000 salary. Spending little, Page still found plenty of fun family activities. Her experience became the inspiration for her blog, Fun, Cheap or Free, which led to a YouTube channel, a popular "Budget Boot Camp," and appearances on everything from Good Morning America to the Today show to Rachel Ray.
Advice on Anything: With her quick wit and easygoing approach to life, Page makes even mundane chores like meal planning and budgeting approachable and painless. And she doesn't restrict her advice to frugal living. "I have no filter," Page admits. If a subscriber has a question about parenting, varicose veins, hormone treatments, you name it—Page is more than happy to answer.
If She Can Do It: "I have never taken a personal finance class. I'm not even that good at math, which is why I felt unqualified giving finance advice at first," says Page. "Though I am not this awesome finance guru, I share a common ground with my viewers. Budgeting takes a lot of work and restraint on my part, just like it does for everybody else."
First Things: While Page calls her blog and YouTube channel a way to scratch her creative itch, the mother of five says it doesn't come first. "The work-life balance is a challenge," she acknowledges, "because at times it feels like my kids are a distraction from my work. But really it's the other way around. As a mom, my family comes first, and YouTube and everything else is ultimately the distraction."
The Big Bang Channel
The Action Lab | James J. Orgill (BS '10, PhD '14) | 469K subscribers, 116m views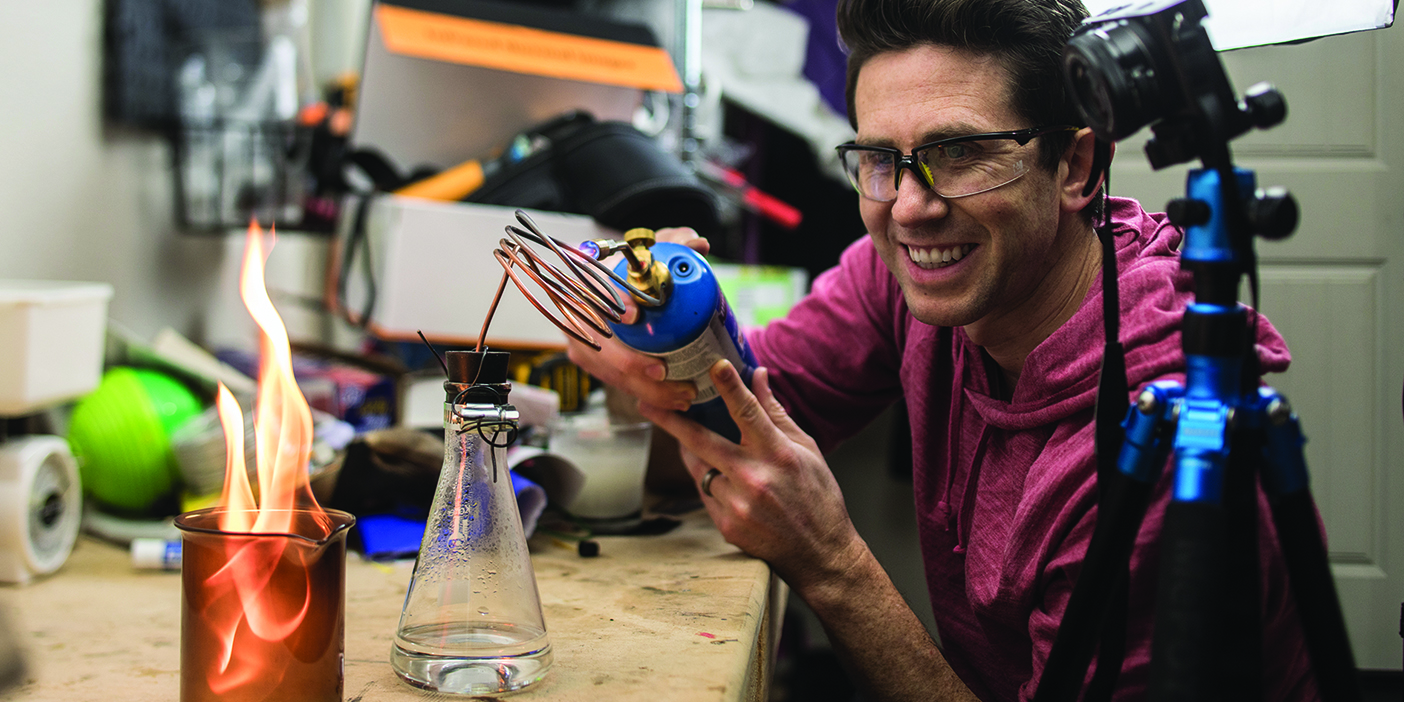 "Please don't try this at home," says James Orgill before sticking his finger into a bowl full of deionized water charged by a 3,000-volt live wire. Watching Orgill in his videos is like watching Dennis the Menace turned loose in a science lab—that is, if Dennis had a PhD in chemical engineering and could build his own vacuum chamber.
Night Shift: Orgill is not your typical YouTuber. By day, he's an Intel production engineer; it's not until after he's tucked his kids into bed that Orgill gets to work on his channel. And though his demeanor is mild compared to many YouTube personalities, Orgill makes his videos lively and engaging while staying true to himself. "When I first started my channel, I knew I had to act like myself and not be anyone else," he says.
In Good Hands: "This is so crazy," says Orgill's wife, Joanna Lee Orgill (BS '08), as she tapes a Venus flytrap to her husband's finger. Orgill laughs, "She gets strange requests from me, but I think this one is up there." Though Joanna is supportive of James's experiments, she also keeps him in check. "She always reminds me not to hurt myself," he says.
Safety First: Whether Orgill is seeing if a carnivorous plant will digest his finger tissues or sticking his arm in a vacuum chamber, he insists that safety is a primary concern. Before doing any experiment, Orgill does extensive research. Still, he admits, "You never know until you do it."
Inspiring Little Scientists: "Can you be my kids' science tutor?" asks one of Orgill's subscribers. His videos comment sections are filled with thank-yous from parents and teachers for making science interesting and easy for their kids to understand. One elementary school science teacher even wrote that she shows Orgill's videos in class to teach her students how to make scientific predictions. "You are inspiring little scientists," she wrote.
Man on a Mission
Prepare to Serve! | Alex R. Balinski (BA '13) | 48K subscribers, 33M views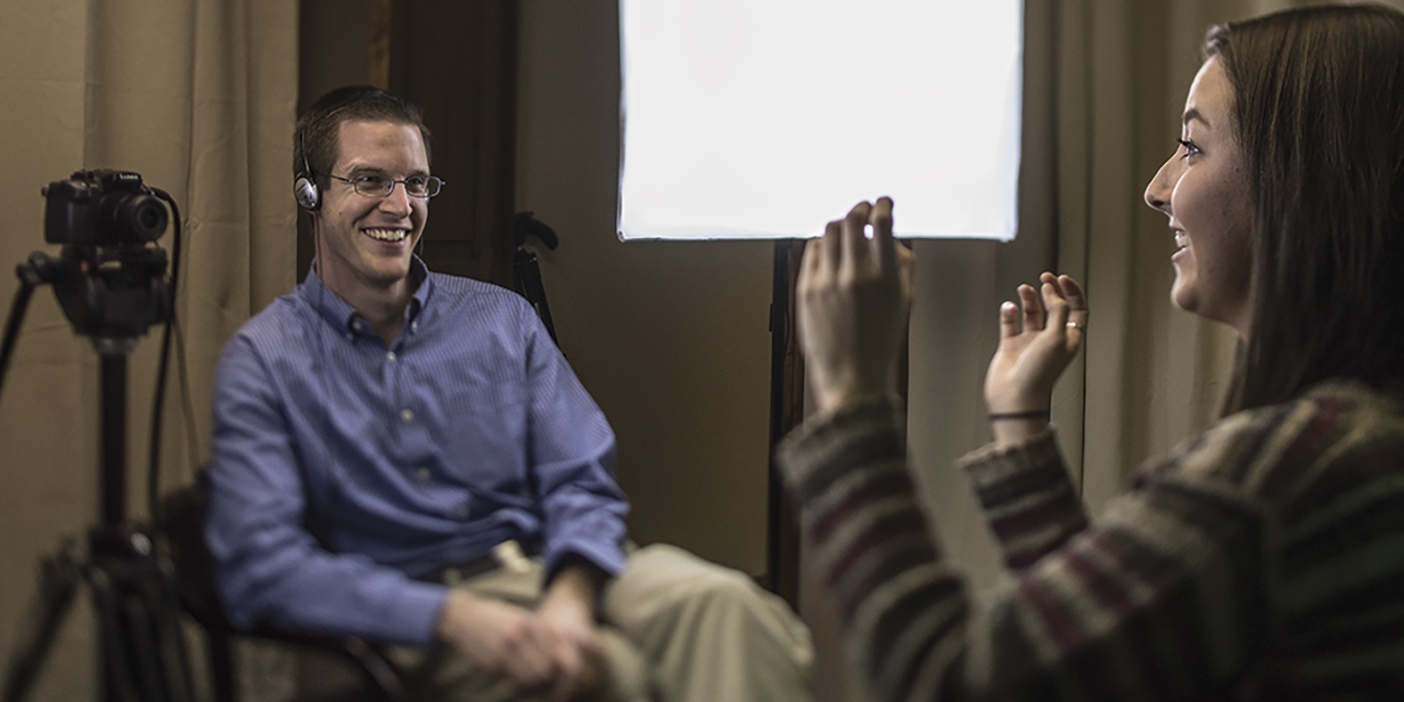 Alex Balinski believes it's his life calling to connect people through technology on his YouTube channel Prepare to Serve! With the help of his wife, Rebecca Boekweg Balinski (BS '13), he has tirelessly conducted, edited, and shared nearly a thousand video interviews of returned missionaries, who tell mission stories and offer advice for young people preparing to enter the field. It's part of a larger website of personal interviews that the Balinskis have dubbed Lifey.
Called to Serve: A comms grad, Balinski says a YouTube channel wasn't in the master plan. "I never would have thought that I would be doing this, but I felt inspired to do it, and I'm grateful. . . . I've been able to see the Lord's hand in my life."
Mission Previews: Prepare to Serve! makes it easy for pre-missionaries with a call to learn about their assigned field of labor. Balinski says he heard from one pre-missionary who felt discouraged after receiving her assignment. When she felt impressed to search for her mission on YouTube, the first video result was a Prepare to Serve! interview from an alum of her mission. The interview provided just the pep talk she needed.
He's Heard It All: The RM stories cover the gamut—from conversions to misadventures to being sent home early. "I've heard so many crazy stories and also many spiritual stories that have been really edifying," says Balinski. "There's been times where I've done interviews where I've felt like I've been walking on sacred ground."
Sharing Goodness: Balinski loves to see family and friends of his interviewees rally around their RM through online comments and likes and shares. "I think that can be positive for returned missionaries to feel supported in expressing their faith on social media."
---
Check out these other alumni YouTubers:
DIY
• The House That Lars Built, interior design DIY ideas by Brittany Watson Jepsen (BA '06) and Paul A. Jepsen (BA '16)
• Robin Clark Clonts (BFA '14) and her pro painting tips
• Cute Girls Hairstyles, by Mindy Scott McKnight (BA '01) and M. Shaun McKnight (BA '99)
Performers
• Lindsey Stirling (BS '15), dancing violinist superstar
• Scott D. ('16) and Ryceejo Nordstrom Shattuck (BS '13), a husband-and-wife a cappella duo
• BYU Vocal Point and BYU Noteworthy, the university's official male and female a cappella ensembles
• One Voice Children's Choir, founded and directed by alum Masafumi Fukuda (BA '02)
Vloggers
• Ellie and Jared S. Mecham's (BS '12) vlog on fertility and family life
• J House Vlogs, about the daily adventures of the Jeremy T. (BS '07, JD '10) and Kendra Niland Johnston (BS '06) family
• Bucket List Family, featuring world-traveling Garrett B. ('15) and Jessica Maughan Gee (BA '10)
Filmmakers
• Jacob + Katie Schwarz, with gorgeous views captured by Jacob (BA '10) and Kathryn Crapo Schwarz (BA '11)
---