---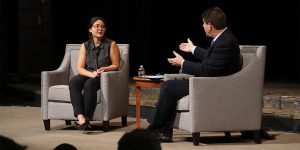 In 2013 22-year-old Cal grad Erika Cheung worked at Silicon Valley's hottest startup, Theranos, a company valued at $9 billion that promised to upend healthcare with a powerful, inexpensive, one-drop-of-blood diagnostic tool. But Cheung soon realized that the tool not only didn't give reliable results but was endangering countless patients. The company leadership ignored her concerns, so she quit and reported the problems to a federal agency even as the company intimidated her with private investigators and legal threats. With Cheung's help, Theranos's fraud was eventually revealed.
Cheung and others who have shown uncommon integrity keynoted the BYU Management Society's (BYUMS) fifth annual Moral and Ethical Leadership Conference last fall. Its theme: Courage to Stand Alone. The conference is a key part of the BYU Management Society's effort to develop principled, moral leaders, helping members navigate sometimes complicated ethical waters. Salt Lake City chapter president Joshua J. Flade (BS '11) and vice president David L. Austin (BS '00) took this goal seriously and brought together an inspiring group of business and civic leaders to tell their stories.
Cheung was joined by Utah governor Gary R. Herbert ('70), former CitiGroup CFO Gary L. Crittenden (BS '76), Larry Miller Group CEO Steve Starks, and Pamela Atkinson, a nurse and activist who advocates for the homeless and poor. All shared experiences of standing alone as they chose to do the right thing, no matter the consequence. For Herbert, refusing on principle to denigrate immigrants and foreigners and deny them the right to settle in Utah led to a good deal of backlash in conservative circles. For Pamela Atkinson, who grew up very poor in the United Kingdom, standing alone against injustice and poverty has become a lifetime habit. Small experiences, like standing up for a nurse a doctor wanted fired simply because he didn't get along with her, helped her become a leader and a voice for the voiceless.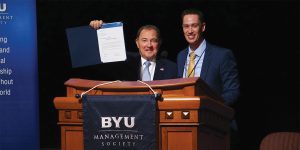 "From these powerful examples, I can always take away something specific that I need at that point in my life and can institute it quickly and feel like it makes a big difference," says Flade. "We want each BYUMS member to be inspired and learn how to use their influence for good."